Life has changed for people with CF in the past couple of years, so we're updating our class times! Starting on Tuesday Oct 4, for the first time ever CF Yogi is offering an earlier-morning class for adults with CF!
CF Yogi has made an effort to keep class times consistent to help people with CF make yoga a regular part of their daily life. The Monday mid-day class time worked really well for a lot of us during the COVID-19 pandemic while we were all isolated at home. But life has changed once again as the SARS-COV-2 virus appears to be moving into a more endemic phase.
Meanwhile, the long-term health stability brought about by Trikafta means that a lot of people with CF have shifted their daily routines in pursuit of bigger goals, like full-time careers or furthering their education. Our community survey in June showed that a chunk of us are interested in a morning class they can attend before work or couple with morning airway clearance/nebulizers.
So we're giving it a shot! Chelsea, Kellie, and Colleen are all on deck to make this a regular time slot this fall, with Chelsea being first up in October. Our WEDNESDAY classes will stay in their current time slot at 4 PM Pacific / 7 PM Eastern, so we'll have both AM and PM options to help us serve the widest possible audience.
---
STRENGTH & STRETCH with Chelsea starts Tuesday, Oct 4th!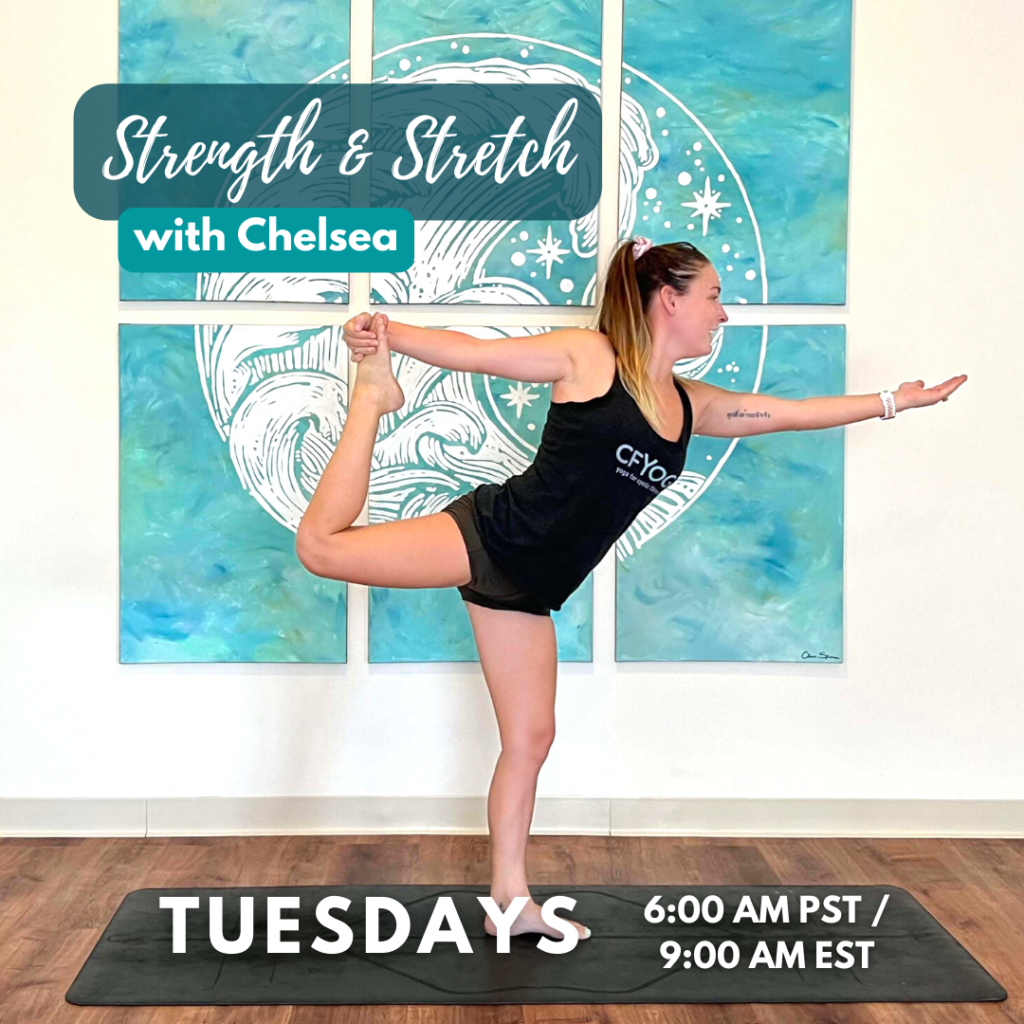 Strength and stretch is a class where you can feel energized and relaxed all at the same time! This class includes 40 minutes of a strengthening breath-to-movement flow to build heat in the body followed by 20 minutes of deep restorative stretching. By warming the body first, you can achieve a deepening in your stretches and an overall calm to the otherwise chaotic mind as you start your day!
---
But what about those who liked the Monday class time?!
If you've been attending our Monday mid-day class and want to keep practicing at the same time, we're happy to help organize a small group for weekly "practice parties" where everyone can practice with classes from our video library selected by the group. We also think there might be interest in a Monday PM weekly small group, based on the responses we received on our last community survey.
If you're interested in joining a small group, sign up below! Both Monday options are listed (mid day and after work), but if you'd like to request another time you can also suggest your own and volunteer to lead it. Click the button below to sign up!