CF Yogi Book Club is back in October! (We decided to move to every-other month so we could make it a bit easier to keep up.) 😉  Our October host will be Fran Anderson, who has selected The Four Agreements by Don Miguel Ruiz as this month's group read. This month we're meeting on Tuesday nights — our host Fran knows all about the craziness of wrangling kids remote learning, your own work, and the madness of daily life, so we're hoping this time will work for many of you as well!
Join us on Tuesdays at 5:30 PM PDT / 6:30 PM MDT / 7:30 PM CDT / 8:30 PM EDT to discuss the book and make some new friends!
About this month's pick
In The Four Agreements, bestselling author don Miguel Ruiz reveals the source of self-limiting beliefs that rob us of joy and create needless suffering. Based on ancient Toltec wisdom, The Four Agreements offer a powerful code of conduct that can rapidly transform our lives to a new experience of freedom, true happiness, and love.
Links to this title:
INDIEBOUND On Indiebound you can order from local independent bookstore. (We highly encourage you to support your local independent booksellers!)
AMAZON (Kindle)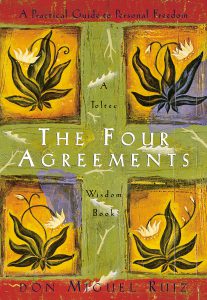 ---
Grab a cup of tea (or beverage of choice), a copy of the book, and find a comfy place to read! Then meet us on Tuesday nights 5:30 Pacific / 8:30 Eastern for a group conversation. There are four agreements, so we'll try to cover one each week. Read through as much of you can of part 1 before we meet on Oct 6th!
Ready to join us for book club?! 📚 Register below!