Meet Kate – one of our participants in our first Kids Yoga session!
Watching Kate during class was pure magic. At only 5 years old, Kate was engrossed in every class and quickly started applying the lessons she learned to her own life! 
In each class, Myra led the kids through an imaginary adventure centered on an affirmation for the week. The first adventure, "Squish the Fish" let the kids practice being brave, as they went on an adventure in the ocean where they met a new fish friend.
Kate's mom was amazed by her focus during class!
"It has been the highlight of her week, and we love the focus it brings her to tuning into her body and breathing. 💜"

~Jenna (Kate's mom)
After class, every family could download a coloring page with the affirmation "I am brave" that the kids could color. Then they would show their artwork to each other at the beginning of the next class!
Affirmations spread to life off of the Yoga Mat.
Week to week, Kate's excitement grew and the affirmations she'd been practicing began to show in her everyday life. With all the doctor's offices, medicines, and sometimes painful procedures involved in CF, it can be hard for young kids to understand why they have to do scary things they don't want to do.
On her next visit to the CF clinic, she was excited to be brave! In this big and scary world where there is so little that she can control, she was discovering what she COULD control.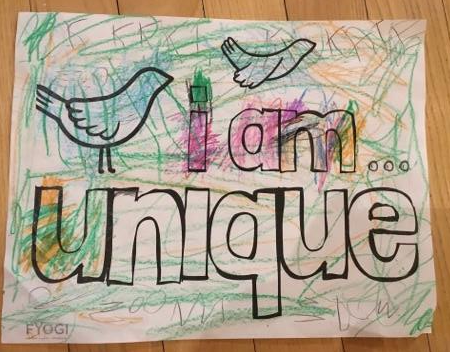 Empowering kids to recognize what they're feeling in the moment
Jenna noticed this progress, and asked if we had any ideas of how yoga could help with an issue that Kate was having that was making her nervous and anxious. We met one-on-one with Kate and Jenna to show Kate some simple tools that could help her bring her attention and focus back into the moment.
We taught Kate a yoga "kriya" that combines movement with sound, which is an effective way to bring our attention back to the body that is, and away from our fears. We even wrote her a simple song that she could sing to herself when she noticed she needed to calm herself down.
Kate is already starting to practice them on her own when she notices she feels nervous!
"Our little session together has been a huge help!! Kate is able to control herself and stay calm sooo much more. Thank you so much for helping empower her. We both feel so much better now knowing she has tools for when she is feeling nervous.

I am so relieved to see her strong little self making a come back, so many of these "scary" things are new and catch me by surprise. Having a 'universal' tool to help overall rather than trying to problem solve each thing is a major blessing.

Thank you for taking the time to make a difference in our little world here."

~Jenna (Kate's mom)
Watch how it works!
The video below gives a glimpse of what Kids Yoga with CF Yogi looks like from our perspective! It is such a joy to see kids like Kate have positive experiences around movement—and learning lessons that will stick with them. For life.
Want to help more kids like Kate learn lessons that will stick with them for their whole lives? Our program of FREE online yoga classes for the CF community is funded by donations from people just like you!
GiveBig is a major day of giving coming up on May 8th… and you can preschedule your donation now!
---
Families in the CF Community are welcome to sign up for our Kids Yoga classes, returning on Sunday mornings in May! Register Now >>