CF Yogi is in the midst of a major glow-up! Today we are thrilled to share some big news, and unveil some exciting new features that our community has been asking for!
Many of you know that CF Yogi was originally launched with funding from a CF Foundation Impact Grant in 2018. The Impact Grant helped us get off the ground, funded our technology start up costs, and supported one live class per week for two years (which was ultimately extended for an additional 6 months due to the pandemic).
Many of you have asked us since then, "What happens after two years?! Will CF Yogi be able to keep going!?"
Well…
Today, we are excited that the answer is a resounding YES!
On July 1, 2021 (that's today!), we start operating with funding from a brand new CF COMMUNITY SUPPORT GRANT from the CF Foundation! This not only ensures that we will be able to continue teaching regular classes on an ongoing basis, but that we will be able to make many of the improvements you've asked for:
IMPROVED CLASS REGISTRATION – making it easier to get to the classes you want, with additional helpful features like opt-in text reminders!

VIDEO LIBRARY – all of our historical classes (over 200!) are now on YOUTUBE playlists in the member portal, where you can save them to your YouTube account and access them from your favorite Smart TV or streaming device!

CONSISTENT CLASS SCHEDULE – No more bouncing around from month to month, our core live classes for CF adults will be more consistent so you can make yoga a habit and build it into your weekly routine!
Plus . . . ***drumroll***
LIVE CLASSES TWICE PER WEEK, EVERY WEEK! We will regularly have one mid-day class on Mondays at 10:30 AM PST / 1:30 PM EST, and one evening class on Wednesdays at 4 PM PST / 7 PM EST. These consistent classes will be geared toward adults with CF, and funded by the new CF Foundation grant. (Never fear, we still intend to hold additional classes for Kids, Young Adults, and Caregivers, plus special extra classes and workshops throughout the year. We will be fundraising for those separately!)
Our July class schedule is now live – try out the new improved scheduling portal right now!
In July we are kicking off our new grant year with Vinyasa Flow with Colleen on Mondays, and Kripalu Yoga with Heather on Wednesdays! And as always, thanks to the support of the CF Foundation classes are FREE for people with CF and their families!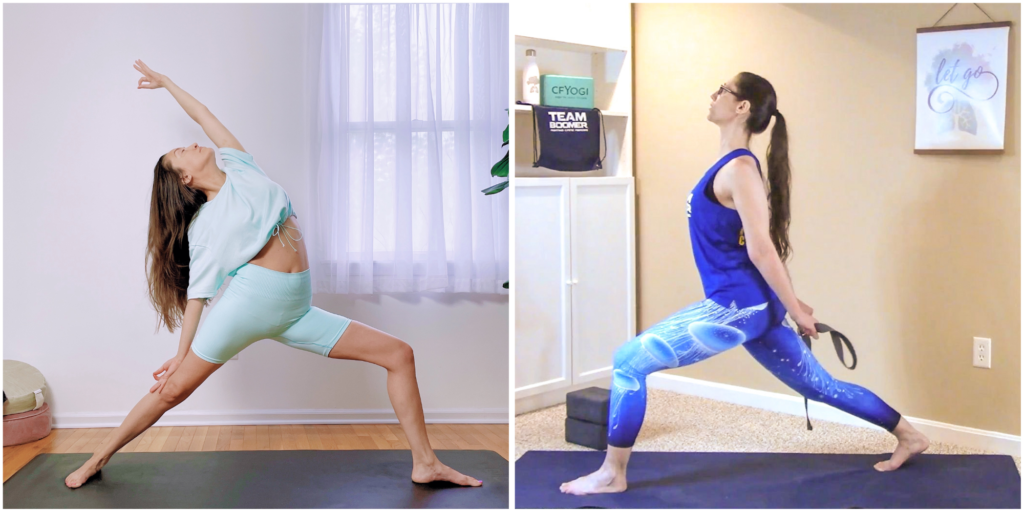 Vinyasa Flow with Colleen
MONDAYS @ 10:30 AM PST / 1:30 PM EST
What better way to start the day (or get the most out of your lunch break) than with a mood-boosting flow to strengthen your body and lift your spirits? This class will build strength, balance, and flexibility by following the guidance of your own body and breath.
Kripalu Yoga with Heather
WEDNESDAYS @ 4 PM PST / 7 PM EST
Join us in a gentle practice to soothe your body and mind at the end of the day. Often called "meditation in motion," Kripalu yoga is a gentle and meditative practice that links breath with flowing motion.
Join us for CF Yogi 2.0: Level up & let's go!
If you're already registered for CF Yogi, head over to the Member Portal and give our new streamlined class scheduler a whirl! If you're new to CF Yogi, complete a one-time registration here to receive your login credentials via email. (It takes about 24 hours to process your registration, so keep your eyes peeled and let us know if you don't receive your welcome email by the next day.)
So here we go… we'll see you on the mat!