Book Club is set for Feb 17th!
We're jumping back into Book Club soon with a new title that's been getting a lot of buzz in the CF community, and beyond! We're giving you plenty of notice since this is a popular new book that can take a while to ship, so we recommend ordering yours as soon as you can.
Breath from Salt: A Deadly Genetic Disease, a New Era in Science, and the Patients and Families Who Changed Medicine Forever 
by Bijal P. Trivedi
Told from the perspectives of the patients, families, physicians, scientists, and philanthropists fighting on the front lines, Breath from Salt is a remarkable story of unlikely scientific and medical firsts, of setbacks and successes, and of people who refused to give up hope—and a fascinating peek into the future of genetics and medicine.
Find this title at an independent bookstore near you on INDIEBOUND.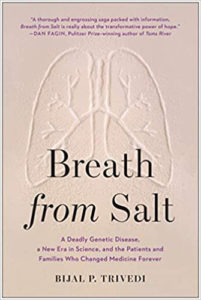 ---
Aimee LeCointre will be hosting our group chat about the book on February 17th at 4 PM Pacific / 5 PM Mountain / 6 PM Central / 7 PM Eastern. Since this is a thick book and some folks have already started reading it, we're just doing the one meetup to talk about it rather than weekly chats and reading "assignments."
All in the CF community are welcome at this free event. Sign up below to join us!