This month we've got another round of Kids Yoga, and this series comes with a Team Boomer Challenge for the whole family!
KIDS YOGA WITH MYRA
Saturdays October 5-26
8 AM PST / 9 AM MST / 10 AM CST / 11 AM EST

In these fun and playful yoga classes, we're exploring strength, balance, and flexibility as we follow along with stories and games that feed our imagination. These classes are ideal for families to do together, including families with CF kids and adults with CF who have children of their own.
Why Yoga for Kids with CF?
The benefits of a yoga practice for kids are vast, especially for CF kids. Yoga is one of the most highly recommended forms of exercise for people with CF of all ages, due to its focus on the breath and the body awareness it develops.
The Boomer Esiason Foundation understands this too, which is why their Team Boomer program is all about encouraging people with CF to exercise more for better health and quality of life. We are so excited to have their support to bring these classes to the CF Community! Because the fact is, active kids become active adults—so by introducing them to yoga at a young age, we're giving them tools for a lifetime.
So to encourage families to participate in this month's classes, we're offering some special prizes for those who complete every class!
Team Boomer Challenge prizes for the whole family:
CF Yogi Kids will receive a Team Boomer kids-size T-shirt, and a limited-edition CF Yogi coloring book!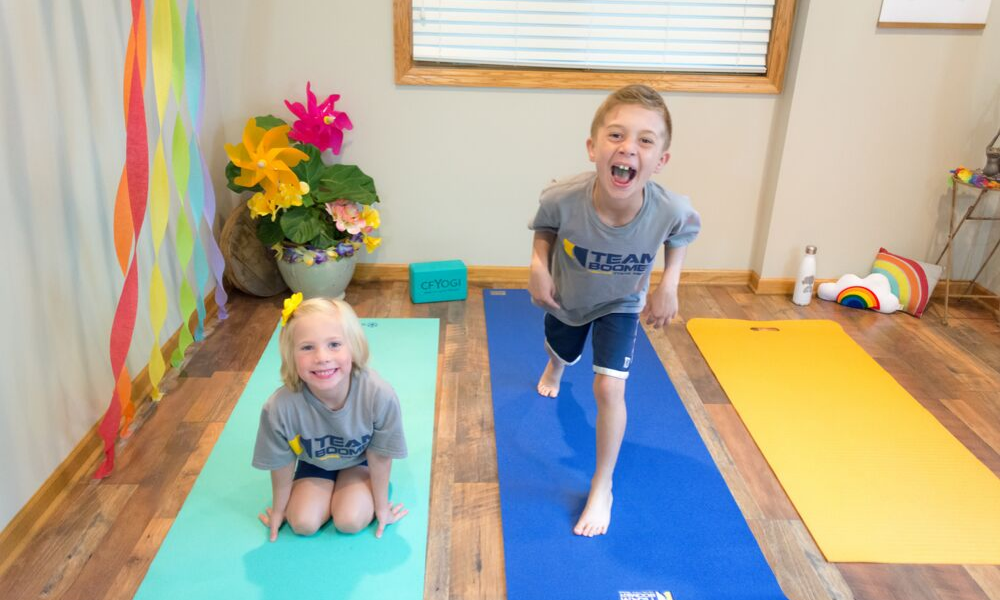 CF Yogi Parents will receive a unisex tank top with CF Yogi on the front and Team Boomer on the back!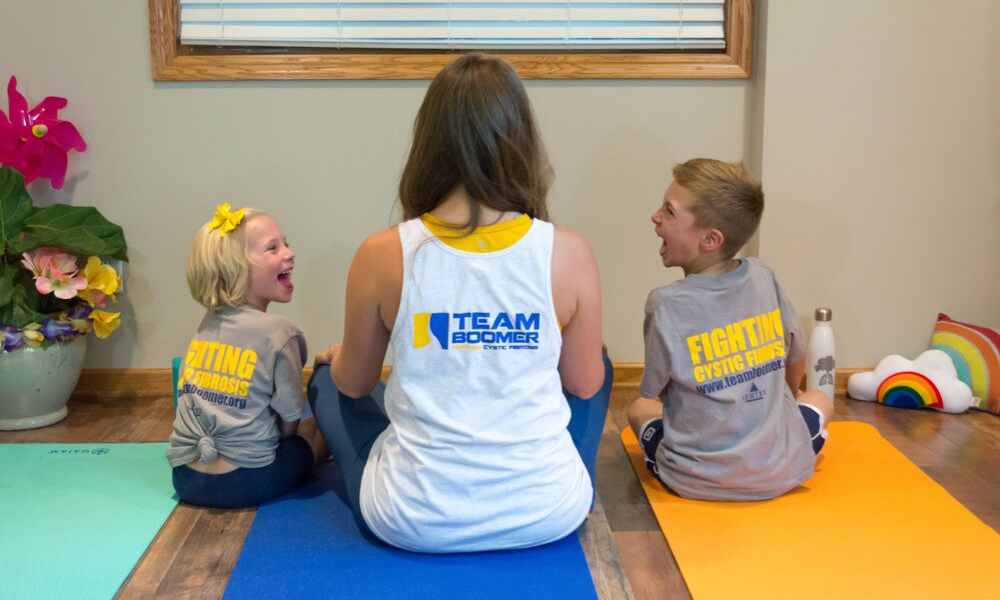 How it works:
STEP 1: Register for CF Yogi (if you're not already registered). All registered CF Yogis are automatically entered in the challenge!
STEP 2: Follow the link in your email to sign up for Myra's Kids Yoga class! Watch your email for the invitation to attend Kids Yoga classes on Saturday mornings starting Oct 5.
STEP 3: Join us for class! Follow the confirmation email link from Zoom to make sure you're joining us in your registered name, so we can keep track of your attendance. You must stay for the whole yoga practice (our Zoom attendance report will show us if you leave early).
P.S. We know life with kids is messy, so if you miss the live class you can do a make-up by watching the on-demand video afterwards (which will be sent out in the weekly Recording Roundup email on Sundays). Two things to remember about make-ups: 1) The registrant name you use to watch the video must match the one you're using to attend live classes. 2) You must complete the recorded video within ONE WEEK in order to remain eligible for the challenge!
Then, receive your prize! Once you complete the challenge by attending all four Kids Yoga classes in October, you'll be notified via email and we'll ask for your mailing address where you'd like to receive your prizes!
We'll see you on the mat!